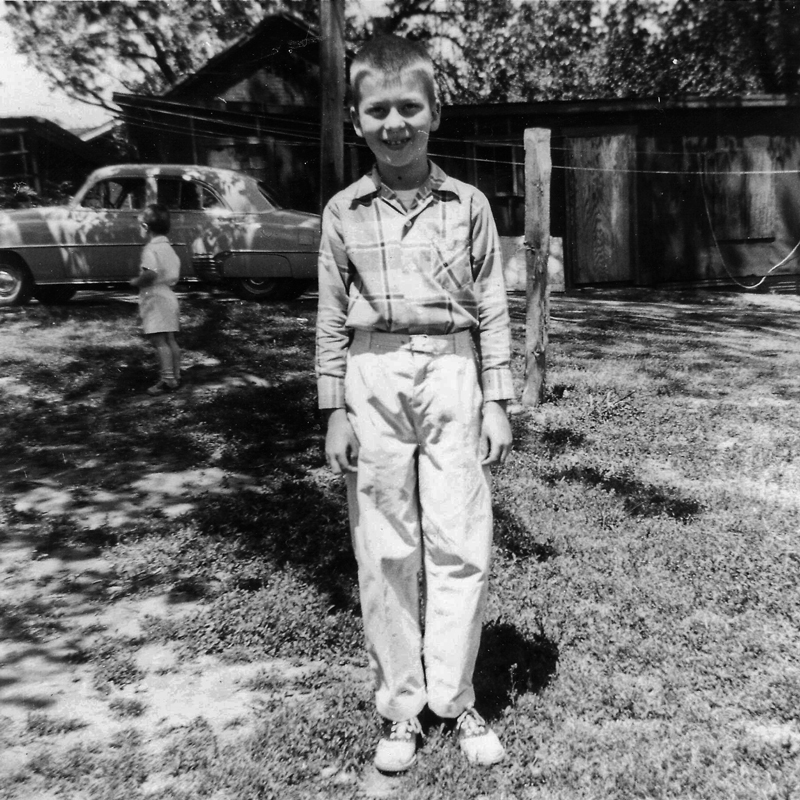 BIOGRAPHY
I like to break down my life story into decades. Here's how it goes:
1946-56
Walter William Zimmerman III is born at 3:40 pm, on Wednesday, Oct. 16th, at St. Margaret's Hospital, in Montgomery AL, to Walter William Zimmerman Jr. and Constance Cora Hebbard, both age 
20. Four siblings (George Hebbard, Glenn Arlen, Ray Lee and Raye Gayle) follow, in the next six years. Family moves from AL to TX, then IL, changing addresses five times before WZ finishes the first grade. In 1953, WZ learns the word 'vivid' from his second-grade teacher, Miss Winkler, and notices that, unlike in his coloring books, things in real life don't have black lines around them. By Thanksgiving 1955, parents
separate; WZ and his brothers stay with their paternal Aunt Mariein Valencia PA. Jan. 1956, parents divorce. Mother gains custody of Raye Gayle; WZ and his brothers placed in United Presbyterian Children's
Orphanage, Mars PA. 
1957-66
WZ removed from Orphanage for health reasons, lives with father and stepmother; attends sixth grade in Elizabeth PA. As WZ enters 7th grade, family relocates, brothers return from the Orphanage; stepmother Joan bears the first of her two daughters (Michelle Lynn and Barbara Joan) as WZ's father loses his job. After a period of extreme abuse, WZ's three brothers returned to Orphanage; remainder of family relocates to McKeesport PA, where WZ enters the 11th grade. Mrs. Lenore Weaver's art class visits Carnegie Museum, and the van Gogh retrospective. Graduation night, June 1964, WZ smokes seven cigarettes in a row, throws up in hostess' rose bushes. Sept. '64, WZ enlists in US Air Force; stationed in San Antonio and Wichita Falls, TX, training for computer operations; makes charcoal and pen-and-ink drawings while hiding in the base library. Transferred to Olmsted AFB, Middletown PA; continues drawing, painting. First solo drawing show in downtown Harrisburg bank. Travels by bus to NYC, to see Salvador Dali exhibit at the Huntingdon Hartford Gallery.
1967-76
WZ transferred to Keflavik Naval Air Station, Iceland, for one year. Joins Baha'I Faith in Reykjavik. Honorably discharged from US Air Force, June '68. Sees Constantin Brancusi exhibit at Philadelphia Museum of Art. With assistance of Mr. John Willard, WZ begins college career at Penn State, University Park campus. First sculpture classes. Drops out, works at University of Pennsylvania Medical School, Philadelphia PA. After a 13 year separation, meets mother and sister in Horsham PA trailer park. Relocates to McAlevy's Fort PA, resumes college study. Auditions for, and is cast in 'Men Against the Sea, Part II', by Joel Houser; studies painting with Bill Hanson. Finishes Bachelor of Science degree with professional acting contract in New Kensington PA, where, it's said, suicide is redundant. Graduates into oil crisis/recession of 1974. Two-person painting & drawing exhibit with Mark Dame, at Penn State's Zoller Gallery. Relocates to Newport RI for abortive theater work; waits on tables; begins recording books on tape.
1977-86
Relocates to Providence RI; holds down computer operations job while continuing theater work. Relocates to Hoboken NJ to pursue NY acting career; earns Equity membership in travelling children's theater work by Scott Laughead. Works for Morgan Stanley, filing bills. Acts and builds props for Ralph Lee's Mettawee River Theater Co., three seasons. Breaks left leg during roller skating lesson with James Murray-Thompson. Attends first Adult Children of Alcholics meetings. Meets John Sheridan at 3:45 pm, Wednesday May 14th, in NYC's Rockefeller Center concourse, outside the former Lamston's, which is now a Burger King.
1987-96
Relocates to Jersey City with John Sheridan. Continues theater work; sees Heller Gallery's 'GlassAmerica' exhibit. Meets Nadine Saylor, Dick Huss; studies at New York Experimental Glass Workshop with Fred Kahl, Leslie Majer, Bill Gudenrath, Jane Bruce, Geoff Isles and Kevin Buxton-Kutch. WZ's father dies, age 66. WZ relocates with John Sheridan to Rochester NY, for MFA study at RIT, with Michael Taylor. Joins Episcopal Church. Exhibits new glass sculpture at Pyramid Arts Center. Juried into first UrbanGlass Biennial Invitational; awarded Wheaton Village/CGCA fellowship. Awarded Hallwalls-sponsored residency, Buffalo NY. Solo glass sculpture exhibit, Robt. Lehman Gallery, UrbanGlass, Brooklyn NY, '96. Monograph published in Glass Magazine, spring '96. Invited to 1996 Everson Biennial, Syracuse NY.
1997-2006
Solo exhibit at Everson Museum's 30th Anniversary; Dale Chihuly purchases $15,000 worth of work, to sponsor exhibit catalog. Catalog published, May 1998. John Sheridan earns Doctor of Musical Arts, Eastman School of Music; WZ and Dr. S relocate to Jersey City NJ. Dr. S breaks his foot while waiting for the piano to be delivered. WZ awarded grant by New Jersey State Council on the Arts; invited for residency at Grand Arts, Kansas City MO, by Margaret Hall and Sean Kelly. Chihuly purchase, '600-D' donated to Renwick Gallery, for 1999 'Glass, Glorious Glass', curated by Kenneth Trapp. Solo exhibit at Art Under Construction featured in article by Sherry Chayatt, for Sculpture Magazine. Jan., 2000, one-semester glass-blowing position at University of the Arts, Philadelphia PA.; invited to participate in Heller Gallery's 'GlassAmerica', 2000 and 2001. Sept. '01, awarded second Wheaton Village/CGCA residency, with Beth Lippman; on Sept. 11, '01, watched airliners crash into World Trade Center in CGCA conference room. August '02, third invitation to Heller Gallery, 'GlassAmerica; Red, White, Blue.' Sept. '03, full-time professorship at University of the Arts, Philadelphia PA. Selected for New Glass Review.
2007-Present 
To be continued...